EverydayCats *Live* Webcam. Keep up with Creampuff and Sox!
10/25/2013 (www.everydaycats.com)
EverydayCats *Live* Webcam is open for everyone. Refresh your browser every few minutes to see the latest picture. Click on the image to see a larger picture!
HOW TO HELP PETS FIGHT THE FAT
11/10/2013 (globalanimal.com)
(PET HEALTH) It's difficult enough to watch our own weight, let alone the weight of our pets. But statistics show our animals need our attention more than ever. One in every four dogs and cats are obese, according to a Bansfield Pet Hospital report.
Apparently This Matters: Cats in clothes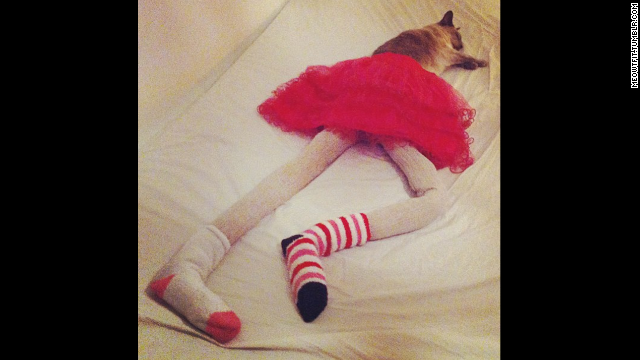 11/09/2013 (cnn.com)
(CNN) -- Dogs are one thing. But, as we all know, cats are evil and sinister, and will disfigure you on a whim, particularly when you are making a spirited attempt to make them look pretty.
Grumpy Cat went to Disneyland and stayed grumpy
11/07/2013 (foxnews.com)
It was a full-on grumpy-off at Disneyland Park on Tuesday, when the Internet's favorite feline, Grumpy Cat, faced off against another famous Grumpy, the dwarf from Snow White.
Meet the Dog Who Knows 1,000 Words
11/06/2013 (ideas.time.com)
When people ask me how smart my dog is, I say that she has about the intelligence of a toddler. Chaser is a 9-year-old border collie who knows 1,000 words, but any dog is potentially capable of reaching toddler-level cognition and development, including learning the basic elements of language.
Scientist Training Beagle Named Elvis To Detect Polar Bear Pregnancies
11/05/2013 (breitbart.com)
CINCINNATI - After reading stories about dogs being used to detect cancer, an animal conservation scientist at the Cincinnati Zoo has enlisted the help of a Kansas handler to train a 2-year-old beagle named Elvis to help detect when polar bears are pregnant.
Concerns About Jerky Pet Treats
11/04/2013 (nytimes.com)
(NYT) -- Seven years ago, Jordan Smith offered her two dogs a Christmas treat: pieces of chicken jerky. Within hours, Eugene, a 14-year-old wire-haired pointing griffon, and Choppy White, a poodle of uncertain age, had diarrhea and were vomiting. A week later, Choppy White died of liver failure.
This cat is the most inefficient drinker
08/22/2012 (YouTube.com)
08/20/2012 (YouTube.com)
Quotes (Eastern Time) Delayed 20 Minutes

| | | | |
| --- | --- | --- | --- |
| Symbol | Price | Time | Change |
| DOW J | 0.00 | N/A | N/A |
| NASDAQ | 4637.994 | 5:16pm | -43.503 |
| PETM | 81.54 | 4:00pm | +0.07 |
| PETS | 16.03 | 4:00pm | -0.18 |
| IDXX | 162.125 | 4:00pm | -2.755 |
| SNY | 46.05 | 4:03pm | -0.55 |
| MWIV | 189.50 | 4:00pm | -0.06 |
| AHII | 0.0001 | 11:58am | 0.00 |
| MRK | 61.45 | 4:00pm | -1.11 |
| CENTA | 9.55 | 4:00pm | -0.23 |
| WOOF | 52.02 | 4:00pm | +0.36 |
Stock Quotes Provided By Yahoo Financial
EVERYDAYCATS NEWS - Everydaycats.com
PENNY EIMS - DOG NEWS - Examiner.com
Animal Health SmartBrief